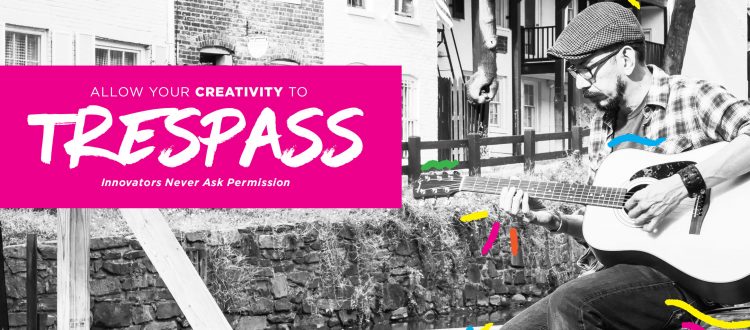 This year, Merritt Group was given the opportunity to define and execute the creative theme for ADWKDC 2016. The idea for the theme came to me one night in the quiet moment right before falling asleep. I jotted down the word 'trespass' on a magazine subscription card and I still liked the idea the next morning.
The main visual goal of the campaign was to showcase the real DC. To highlight the people who live and work in our city. With the help of photographer Geoff Livingston, and with coworkers and AAF DC committee members standing in as models, we were able to bring the concept to life. The execution of creative elements was a true team effort, with one designer (a bagel-loving street fighter) providing the colors and illustrative elements, and another designer (an animal-loving newlywed) providing the type treatment. The end result is a vibrant 'uniquely DC' campaign that encourages viewers to step out of their comfort zones.
Working with the AAF DC committee on this campaign has been incredibly smooth. I have no doubts the entire conference will be a success and I look forward to speaking.
In my ADWKDC 2016 session, Pumping Creative Iron, fostering creativity will be likened to building muscle and training to achieve your ideal fitness level. This talk will benefit anyone seeking a creative edge, particularly those who have uttered the (tragic) statement "I'm not creative." We will review common barriers to creativity, most of which are self-inflicted. We will also map out effective tactics for instilling more creativity in the workplace and in your day-to-day activities. Small moves can net big results.
If you attend this session, you will learn how to become a Creative Ambassador for your office with the 2-Minute Creative Challenge Program. Attendees will receive materials to execute a full year of the Creative Challenge, including PowerPoint slides and Posters.
Get ready to work and strengthen that creative muscle.
—
Special Guest Post by Julia Sarver, Creative Director at Merritt Group
Check out Julia's speaker bio, and mark your calendar for her session Pumping Creative Iron, along with the rest of this year's weeklong ADWKDC celebration - happening October 15-21.